In fact, the pogo pin connector and the POGO PIN connector are the same product, but the name is different.
  Pogo Pin is a spring-type probe made of three basic components: Plunger and Tube (Spring) after being riveted by precision instruments. It is also called pogo pin, pogo pin, Spring probe, PogoPin connector.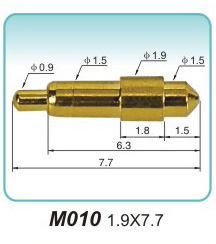 The bottom of the needle of Pogo Pin is generally inclined structure. The function of the inclined structure is to ensure that the Pogo Pin maintains sufficient contact with the inner wall of the needle and the needle tube during work, so that the current mainly passes through the gold-plated needle and needle tube to ensure the stability of the Pogo Pin There is also low impedance.
  Pogo Pin is usually used in the precision connection of electronic products such as mobile phones, communications, automobiles, medical treatment, aerospace, etc.; because Pogo Pin is a very fine probe, the volume can be very small, so it can be used in precision connectors Effectively reduce the weight of the connector, save space, and beautify the appearance of products (for example: ultra-thin mobile phones, smart watches and other products).
  Shenzhen Wanchang Electronics Co., Ltd. was established in 2004, integrating R&D, manufacturing, and sales. It is located in Longgang District, Shenzhen. It has an independent factory building with an area of about 9,600 square meters. It is mainly engaged in the development and production of various POGOPIN and POGOPIN connectors. , As well as antenna shafts and automatic lathe parts, can also be produced and processed according to customer sample drawings. There are more than 1,000 kinds of products for customers to choose. The products are mainly dedicated to drones, smart robots, smart watches, computers, mobile phones, Various electronic products such as antennas, household appliances, medical equipment, etc., continue to win the trust of customers with quality and service, and continue to build their own brands in the connection industry.
  At present, the company's R&D and design personnel are experienced engineers with nearly 10 years of experience in the industry, and the total number of employees is 260. In order to meet the needs of market quality and provide customers with more solid quality assurance, the company passed the ISO9007 quality system in 2007 The certification of ISO1400 successively passed the certification of ISO1400 environmental system in 2009.