Specific requirements for two types of pogo pin connector contact terminals
  First, the design requirements of the end of the contact:
  is a non-standard type of contact. It is designed according to the cable requirements of the whole machine. The size of the plug-in end, the product installation form, the appearance method and the cable specification must be determined first. When the cable cannot be determined, the principle to follow is to design the wiring hole according to the contact part number. The wiring hole must meet the requirements of large wire gauge wires. The ratio of the diameter of the wire core to the inner diameter of the welding cup is usually 0.5-0.7 ; When connecting a wire, the design principle is that the diameter of the cable core and the connection hole of the contact should be consistent with each other, and the ratio of the diameter of the wire core to the inner diameter of the welding hole is usually 0.6-0.8.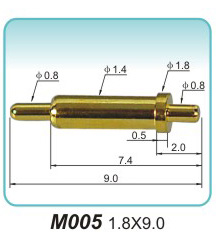 Second, the requirements of the contact end form:
  In pogo pin connector, the contact is an important part of the connector, and its main function is to transmit signals. In the connector design, the contact is composed of two parts: the mating end and the tail end. The mating end is usually composed of elastic parts and rigid parts to ensure the reliability of the contact between the connector plug and the socket; the end of the contact can realize the cable connection between the equipment, the interconnection between the printed boards or the cable The interconnection between the board and the board is used in the cable connection. The terminal end of the connector has welding wire type, crimping wire type, and insulation piercing type (IDC, solderless winding type, used for printed boards , The contact terminal connection forms include straight welding, bending welding, surface mounting and welding-free press-in type.