The pogo pin is the most commonly used connector for most digital electronic products. It is mainly composed of three parts, namely, the needle and the needle tube spring. It seems that the structure is very simple, but it is not in the actual production process. As simple as you imagine, pogo pins are divided into different types according to the different requirements of customers. So what are the most practical and common types of pogo pins? Today I will introduce to you: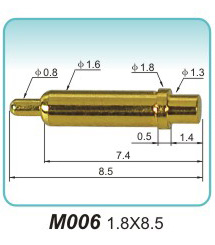 The first type: double-headed type, which is to add a small head to the standard single-pin pogo pin to achieve double-sided conduction performance to facilitate better transmission of current!
  The second type: surface mount type. This is the flat-bottomed single needle we usually talk about. It has the longest applicability and the simplest process compared to the other three. The price is economical at the same height and the same gold plating thickness. The most affordable option.
  The third type: plug-in type. This type of structure is to make the single-pin better soldered on the PCB board and other equipment. The appearance style can be made into a 90-degree bending angle and a right-angle plug-in type according to the customer's enchantment. Single needle.
  The fourth type: non-standard. In addition to the above, there are also non-standard pogo pins. These are generally customized according to customer requirements. They are rarely universal, and the relative price will be more expensive!