The pogo pin spring thimble is a very common connector in people's daily life. You may not have noticed it. It is very precise and small, but it has very important functions, such as: mobile phones, smart watches, drones, Bluetooth headsets , Electronic cigarettes, etc. These all need to use the spring thimble, which mainly plays the function of connection, charging and signal transmission in the device. Next, the editor of Tyco Hanze will explain the design and structure of the pogo pin spring thimble needle.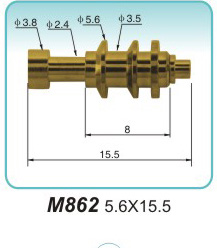 1) Needle bevel structure: Pogo pin spring thimble is a design concept that can ensure low and stable contact impedance and stable conduction of the product.
  2) Needle punching structure: Pogo pin spring thimble has a matching spring length that can exceed the length of the needle tube. When space is limited, the design of reverse drilling can obtain stable elasticity and stroke.
  3) Flat-bottomed needle structure: This design will not be in contact with the pogo pin spring thimble needle and the spring thimble needle tube in some cases. The resistance is too large, the rag voltage drops significantly, and the current of the electronic product is unstable.