The mechanical life of the pogopin thimble of the connector refers to the plug life. The round metal plug-in charging pin connector is generally stipulated to be about 5000 times. When the specified mechanical life is reached, the contact resistance, insulation resistance and withstand voltage of the signal pin connector cannot exceed the specified value. Strictly speaking, the current mechanical life is basically a vague concept. Mechanical life should have a certain relationship with time. After 500 times in 10 years and 500 times in 1 year, it is obvious that their situation is different.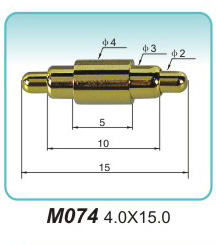 The number of contact pairs can be selected according to the needs of the mechanical life of the pogopin thimble of the circuit connector, and the volume of the pogopin thimble of the connector and the size of the total separation force should be considered. The number of contact pairs is large, of course, the volume is large, and the total separation force is relatively large. In some cases where the reliability is high and the volume is allowed, two pairs of contact pairs can be used in parallel to improve the reliability of the connection.
  In the plugs and sockets of the pogopin thimble of the connector, the pins and jacks can generally be interchanged and assembled. In actual use, it can be selected according to the live conditions at both ends of the plug and socket. If the socket needs to be charged frequently, you can choose a socket with a socket, because the socket with a socket has its live contacts buried in the insulator, and the human body is not easy to touch the live contacts, which is relatively safe.
  The main consideration is the electrical continuity of the contact pair when the connector pogopin thimble under the specified frequency and acceleration conditions vibrates, impacts, and collides. The contact pair will instantaneously open circuit under this dynamic stress condition. The specified instantaneous time is generally 1μs, 10μs, 100μs, 1ms and 10ms. More attention should be paid to how to judge the instantaneous failure of the contact point. It is generally believed that when the voltage across the closed contact point drops to more than 50% of the electromotive force of the power supply, it can be determined that the closed contact point has failed. That is to say, there are two conditions for judging whether a momentary interruption occurs: duration and voltage drop, both of which are indispensable.
Read recommendations:
M2742 6.0x13(1A)anode electrode Production
M2716 5.5x7.25(1A)anode electrode company
M2648 7.5x5.8(4A)anode electrode company
What are the surface defects often appear in the car POGOPIN spring