The prosperity of smart devices has also led to the rise of various smart wearable devices, such as smart bracelets, Bluetooth headsets and other products. In chats with many customers, there have been some problems due to the use or quality of the Bluetooth headset connector pogopin. Therefore, we must pay attention to the application of the device. There are many aspects of the problem, so what are the main problems?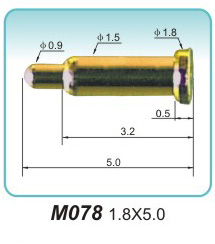 The Bluetooth headset connector pogopin has three components: a needle, a spring, and a needle tube, all of which are indispensable. Because many manufacturers' technology cannot produce mass production, mass production is prone to many unqualified products, and the lack of standardized management mode causes the connector to be damaged during the production and inspection process, resulting in a low product qualification rate.
  Therefore, pay attention to some problems in use, so as to better extend the life of the connector. The battery contacts or FPC golden fingers that are paired with the connector should not be dirty, oxidized, residual sealing liquid, and other dirt residues, etc., to ensure that the surface is clean and tidy.
  When moving or moving, avoid contacting the connector with hard objects to avoid scratching the connector. When stacking the product, do not place it under heavy objects to avoid crushing the connector. In the usual storage process, you must ensure that the room has a suitable temperature and humidity. Excessive temperature or humidity will have a certain impact on it.
  The top terminal is the key part of the Bluetooth headset connector pogopin. This terminal is like a small connector, which plays an internal connection role. The material selection of the terminal is also related to the quality and environmental protection of the product. Its gold-plated, silver-plated, There are several methods such as tin plating. Among them, gold plating has the most excellent corrosion resistance, which can improve the performance and wear resistance of the connector, and the connector can transmit data and current more stably.
Read recommendations:
M2742 6.0x13(1A)anode electrode Production
M2716 5.5x7.25(1A)anode electrode company
M2648 7.5x5.8(4A)anode electrode company
What are the surface defects often appear in the car POGOPIN spring