The demand for military equipment is the main driving force for the development of pogopin waterproof connector technology and the market. Among the pogopin waterproof connectors, the national MI standard is the actual international military standard of Shimei L. It is mainly due to the large demand for connectors of various specifications by the US military owners. The high-level pogopin waterproof connectors consist of detachable plugs and The technical strength of the socket structure, large economies of scale, competitive prices, and the North Atlantic Treaty Organization's requirement to purchase standardized components and equipment are caused by many factors.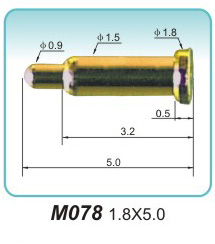 The pogopin waterproof connector is composed of a detachable plug and a socket, and the head and socket are both in a cylindrical metal or plastic plug shell. When merging, the shells can be connected together with a screw thread, a mouth or a push-fit outer Kara-type coupling ring. The contact piece is female inserted in the plastic or glass insulating material mounting plate densely, and the contact piece is a cylindrical pin, which is embedded in the insulating Anyang mounting plate.
  The contact terminal is welded or crimped; the mounting plate has a variety of contact hole positions, and the number of contacts depends on the working voltage of the contact specification; and in order to prevent mis-insertion, multiple positioning methods.
  The cylindrical structure of the pogopin waterproof connector has natural sturdiness, and has a higher strength and weight ratio than any other shape. It is easy to use standard machine tools to process, easier to seal, easy to insert and disconnect, simple and firm locking mechanism. Ten years of technological development has given it a complete and reasonable process and high reliability. Therefore, it is required to use the multi-contact connector to realize the interconnection between the component and the cable, and the pogopin waterproof connector is the best choice.
Read recommendations:
M2742 6.0x13(1A)anode electrode Production
M2716 5.5x7.25(1A)anode electrode company
M2648 7.5x5.8(4A)anode electrode company
What are the surface defects often appear in the car POGOPIN spring