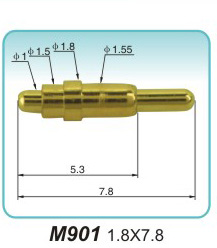 Connectors have a huge demand in the component market. In order to ensure that the connectors can have reliable functions, we must pay attention to the following points in the application process:
  1. When using the pogopin female header, remember to insert and remove slowly. The pins need to be aligned with each hole. When pulling out, do not use too much force to avoid damaging the pins, and try to keep both ends of the pin headers coming out together.
  2. When installing the pogopin female connector with round hole pin header, if you find that the pin number of the pin header is short, you should choose to replace it immediately, otherwise it will cause some problems in the use of the pin header pogopin female connector.
  3. Be careful not to insert the pogopin female connector in the process of using the round hole pin header. It can't be inserted backward or misplaced. If the plug is not smooth, you can't pull it out forcibly to avoid damaging the pin header.
  4. If the number of rows of the round hole pin header connector is relatively large, when the pin header is connected with the pogopin header, pay attention to whether the pins are aligned with the pinhole of the pogopin header. Forcibly connecting in the case of misalignment simply causes the pin header to bend.
  5. If the pogopin female header connector has been used for a long time, then the dust in the pinhole of the pogopin female header must be removed frequently. Because once the dust accumulates too much, it will cause poor connection and contact between the pin header and the pogopin header, and the current or signal transmission will be unstable during use.
Read recommendations:
M2742 6.0x13(1A)anode electrode Production
M2716 5.5x7.25(1A)anode electrode company
M2648 7.5x5.8(4A)anode electrode company
Introduction of double-ended spring charging pin.Elastic contact company
The determinants of the price of custom pogo pins.Spring Loaded Contact Pin factory