How do pin header manufacturers introduce the difference between cable connectors and device connectors?
  The cables themselves have no effect unless they end with connectors or more specialized coaxial connectors. Coaxial connectors allow one cable to be connected to another cable or device. Therefore, there are two different types of connectors: to connect to cables and to devices. Without these two types of connectors, the cable cannot be connected to the device. So do you know what is the difference between a cable connector and a device connector? Next, the pin header manufacturers will introduce the difference between the cable connector and the device connector.
  1. Cable centralized connector
  In a cable, the connector is mechanically tightly connected to the end of the cable. Once the connector is connected to the cable, it becomes the cable assembly. RF engineers sometimes buy ordinary (standard) cables and separate cable connectors, and connect each part according to their needs. When only a few cable assemblies are needed, it is more affordable and faster to assemble. However, when many cable assemblies are required, it is recommended to purchase cable assemblies.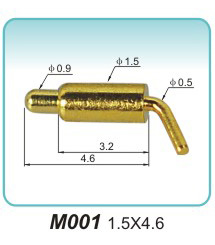 2. Connector
  Just like a cable, the goal of each connector is the same, with minimal insertion loss. Although the insertion loss of the connector is very small compared with the cable, the connector does have an insertion loss, and there are many different types of connectors. Almost all connectors have connectors suitable for cables and devices. As a general rule, one set of connectors will not match another set of connectors.
  Why are there so many connectors? There are two reasons: First, some connector families are larger in physical size, while others are smaller. If you need inexpensive cable assemblies, choose small-diameter cables, limiting the choice of connectors to the small connector family available. If the cable needs to carry high-power radio frequency signals, a large-diameter cable is required, so a large connector is required.
  The second reason is evolution. With the changes of the times, connector manufacturers often improve the connection according to actual needs, or reduce the insertion loss, or use the connection to become easier. Every time an existing connector type changes significantly, a new connector family is born.
  Three, adapter
  Because of these different connector families, interesting phenomena have appeared. Sometimes RF engineers are forced to connect a cable with one connector to another cable or device with a different connector family. This is impossible. Completed. The pace of the adapter is the same. The adapter, also known as the coaxial adapter, is a short bilateral connector. One is a connector and the other is a connector. The adapter facilitates the connection of two radio frequency objects with different types of connectors.
Read recommendations:
M2742 6.0x13(1A)anode electrode Production
M2716 5.5x7.25(1A)anode electrode company
M2648 7.5x5.8(4A)anode electrode company
Introduction of double-ended spring charging pin.Elastic contact company
The determinants of the price of custom pogo pins.Spring Loaded Contact Pin factory