How to choose pogopin connector
  One, stitch, stitch pitch
  The number of plugs and the distance between plugs are the basic basis for the selection of connectors. The number of signals that need to be connected determines how many pins of the pogopin connector are selected. For some patch pogopin connectors, the number of patch headers as shown in the figure below should not be too much. Due to the effect of high temperature, thermal expansion and contraction of the connector will occur during the welding process, which will cause the thermal expansion and contraction of the connector to cause welding failure. The P800Flash programmer has been connected with this pin header type and female header type board at the beginning of development, and the result is a large area of virtual soldering of the prototype pin header type pins. After replacing the two lead pins and halving the pin headers, there is no false welding.
  Electronic devices are now moving towards miniaturization and precision, and the distance between metal tubes has also ranged from 2.54mm to 1.27mm to 0.5mm. The smaller the needle pitch, the higher the requirements for the production process. The stitch length should be determined according to the company's production technology level, blindly pursuing a small stitch length.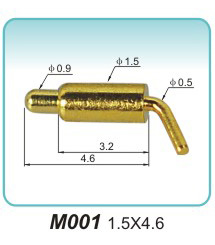 2. Electrical performance
  Its electrical properties mainly include: limiting current, contact resistance, insulation resistance, dielectric strength, etc. When turning on the high-power power supply, pay attention to the limiting current; when transmitting high-frequency signals such as LVDS and PCIe, pay attention to the contact resistance. The contact resistance of a metal should be low and constant, generally tens of m to hundreds of mΩ.
  3. Environmental conditions
  Environmental performance such as temperature resistance, humidity resistance, salt spray resistance, vibration resistance, and impact resistance. Choose a specific application environment. For example, when the operating environment is humid, the requirements for copper's moisture resistance and salt spray resistance are higher to prevent the copper metal contacts from being corroded. For the industrial control field, in order to prevent falling during the vibration process, high vibration and shock resistance is required.
  Four, mechanical properties
  Impact mechanical properties include insertion force, mechanical shock resistance, etc. Mechanical anti-static is very important, once plugged in reverse, it will cause irreversible damage to the circuit!
  Withdrawal force is divided into insertion force and separation force. The larger insertion force and smaller splitting force specified in the relevant standards should be less than the insertion force and splitting force from the point of view of use. Too little separation force will reduce the reliability of contact, but for connectors that often need to be plugged and unplugged, too much separation force will increase the difficulty of unplugging, thereby reducing the mechanical life.
Read recommendations:
M2742 6.0x13(1A)anode electrode Production
M2716 5.5x7.25(1A)anode electrode company
M2648 7.5x5.8(4A)anode electrode company
Introduction of double-ended spring charging pin.Elastic contact company
The determinants of the price of custom pogo pins.Spring Loaded Contact Pin factory