Pogopin electrical parameters
  1. Contact resistance: The main consideration is the loss in line transmission, especially the signal voltage. Since the signal amplitude is not high, if the contact resistance is large, the voltage drop on it will be large, and the signal will be attenuated, which is not good for transmission. The connector with twist pin can better ensure its contact reliability due to the multi-point contact, especially for the transmission of low voltage and small current.
  2. Rated voltage: also called rated working voltage, which refers to the voltage that can be applied for a long time between components that are insulated from each other. Long-term operation at a voltage higher than the rated voltage will deteriorate the insulation performance of the insulator or damage the insulator and cause the connector to fail.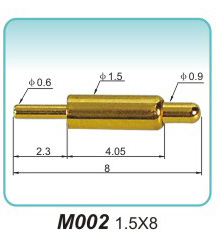 3. Rated current: It is also called rated working current. The value of rated current has been determined during the thermal design of the product. Excessive current will cause overheating and damage the insulator or soften the coating of the contact to form a fault. The use current cannot be increased at will. It should also be used in derating in order to require high reliability. Generally, it can be considered at 75-85% of the rated current.
  4. Shielding: Due to the high-density installation of the whole machine and external electromagnetic radiation, a metal shell is generally used to shield the external and internal electromagnetic radiation. Note that the grounding of the metal shell should be good.
  5. Impedance matching: For coaxial connectors used to transmit high-frequency or radio frequency signals, the important thing is to pay attention to the characteristic impedance. Usually there are two types of characteristic impedance: 75Ω and 50Ω. The result of improper selection is that the signal is greatly attenuated (reflected) .
  1. Insulation resistance: refers to the resistance value formed on the surface or inside of an insulator after it is energized. If the insulation resistance is small, the leakage current will be large after power-on, and the transmitted current will be shunted, causing loss. The insulation resistance is related to the selected materials and the environmental conditions used. Generally, it will decrease under high temperature or humidity. Pay attention to the regulations in the sample.
  2. Dielectric withstand voltage: refers to the ability to withstand the instantaneous peak voltage breakdown caused by surges, transients, transients, etc. between mutually insulated contacts and between the components such as the shell, and the material of the insulator and the environment Temperature (high temperature is unfavorable), humidity (high humidity is unfavorable), and atmospheric pressure (low air pressure is unfavorable) are all related.
  3. Flammability: Refers to the flame retardancy and self-extinguishing properties of insulator materials (except glass and ceramics), which are very important for certain special occasions in aerospace, space, and household appliances.
Read recommendations:
M2742 6.0x13(1A)anode electrode Production
M2716 5.5x7.25(1A)anode electrode company
M2648 7.5x5.8(4A)anode electrode company
Introduction of double-ended spring charging pin.Elastic contact company
The determinants of the price of custom pogo pins.Spring Loaded Contact Pin factory