pogopin mechanical parameters
  1. Mechanical life: refers to the insertion and removal of the product (the seat and head of the special connector), generally 1000 to 10000 times. Note that most products do not support hot swap (ie, live separation or insertion). If the user has a request, it should be declared first when ordering.
  2. Dimensional interference: The user should pay attention to the adaptability of the product's external dimensions to your installation space when selecting, and focus on whether it will cause dimensional interference with other components or components.
  3. Pinhole: When there is a high reliability requirement, usually in order to improve reliability, redundant design is generally adopted, and two or more pins are used in parallel. In addition, if the socket is often live, it is more appropriate to choose the mounting hole, and vice versa, mainly for safety considerations.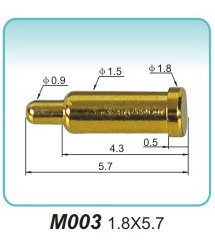 4. Locking methods: rectangular connectors are divided into screw, buckle fast, fast inserting and other locking methods, circular connectors are divided into ribs, bayonet fast, marble type fast, etc., usually ribs or screws are used to lock the connector. The unplugging time is long, and it is only suitable for occasions where it is not often plugged and unplugged. The locking method is reliable but troublesome to plug and unplug. Quick locking of inserts, bayonet, etc. is suitable for occasions where it is often plugged in and unplugged.
  5. Positioning method: It is mainly to prevent the wrong mating of the connector. If the requirements are strict, you can choose a variety of positioning structures.
  6. Installation method: It is mainly based on the user's preference or installation location and aesthetics. The focus is on the selection of accessories.
  Use attention
  1. Since most products do not have the function of preventing oblique insertion, be careful not to insert obliquely when inserting, and it should be the same when pulling out. Try not to pull out by shaking it from side to side. Especially for sealed products that use glass insulators as a support, not only should the welding end not be moved at will when welding, but also should not be shaken side-to-side when pulling out.
  2. Although products using twist needles are highly reliable, they do not support blind insertion and are not suitable for explosive insertion. When inserting, you should first align the direction and then slowly push in, because the twist needle needs time to automatically find the position. .
  3. Since most products do not support hot plugging or unplugging (hot plugging), you should plug or unplug after power off.
  4. Products that are not inserted in place (or before being locked) cannot be powered on. Do not insert forcibly if there is an abnormality when inserting.
  5. Before using the connector, check whether there is any excess. If you want to clean the contact parts, you should use silk fabric dipped in absolute ethanol to scrub. Cotton fabric should not be used to prevent the fiber from being hooked and forming excess.
  6. Special connectors should be stored in a non-corrosive gas environment with a temperature of -45~+125℃ and a relative humidity of not more than 95%.
  7. For the termination type using crimping, it should be noted that the cross-sectional area of the core of the cable you choose should meet the specification range of the sample for this parameter. If the core is too small, the crimping will be weak, and the too large core will not be crimped. . For soldering, it should also be considered that after the cable core is inserted, sufficient solder loading space should be ensured.
  8. For products connected by welding, neutral flux should be used when welding, so as not to contaminate the insulator and reduce the insulation of the product. At the same time, the soldering temperature should not be too high and the time should not be too long. Usually the soldering temperature should not exceed 260 ℃, and a matching electric soldering iron can be selected accordingly. The continuous welding time should not exceed 3 seconds, and the longest should not exceed 5 seconds. If you need to repeat the welding many times, you should perform the second welding after the solder joints are sufficiently cooled. After the welding is completed, the special connector should be removed in time The surface flux of the insulator is not contaminated and the insulation performance is reduced.
Read recommendations:
M2742 6.0x13(1A)anode electrode Production
M2716 5.5x7.25(1A)anode electrode company
M2648 7.5x5.8(4A)anode electrode company
Introduction of double-ended spring charging pin.Elastic contact company
The determinants of the price of custom pogo pins.Spring Loaded Contact Pin factory