Introduction to the product principle of pogo pin connector
  Pogo pin connector is also called: pogo pin connector, charging pin connector, probe connector, etc.; mainly used in electronic products, such as mobile phones, computers, printers, GPS positioning, communication equipment, medical equipment, aviation equipment Wait;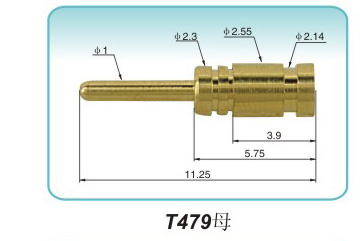 1. Product Introduction
  The pogo pin connector is a special connector. The basic structure consists of a turning needle tube, a turning needle, a compression spring, and a plastic core. The needle tube is crimped at the mouth of the needle tube to keep the needle in the needle tube, and the contact force is provided by the spring to fix the needle and the butt.
  2. Product structure (shape)
  Flat bottom type) Good stability, the bottom of the needle tube is a flat bottom design, which is easy to be welded to the PCB board;
  Plug-in type) There is a positioning pin at the end of the needle tube. When welding with the PCB board, there will be no offset phenomenon, and the positioning effect is good;
  Bending type) The tail is bent, providing designers with more choices in the use of space;
  Double-headed) The double-headed double-action design allows engineers to have more space flexibility in the board-to-board bidirectional connection;
  Wire-bonding type) Suitable for cable end, easy to be welded with wire;
  Threaded) Special specifications of products can meet the different needs of customers, and at the same time, they can be customized according to customer needs;
  3. The latest application of pogo pin connector:
  RF combs, massagers, ordinary machine tools, lighting equipment, smart sockets, outdoor solar energy, drones, GPS positioning, projectors, PS scanners, charged tables, lamps, mobile phone holsters, electronic keys, high-end bathroom heaters, small Fans, LCD headlights, lithium battery boxes, female health underwear, 3D printers, antennas, cards, scanners, smart switches, protective masks, voting machines, rehabilitation training machines, LED light bars, LED mirrors, industrial electronic scales, Car smart rearview mirror, scanning ring, handheld card reader, Bluetooth charging stand, kettle, advertising machine, LED light, coffee machine, teaching equipment, etc.
Read recommendations:
M2742 6.0x13(1A)anode electrode Production
M2716 5.5x7.25(1A)anode electrode company
M2648 7.5x5.8(4A)anode electrode company
Introduction of double-ended spring charging pin.Elastic contact company
The determinants of the price of custom pogo pins.Spring Loaded Contact Pin factory