How to evaluate the price of pogopin female header connector and what are the reasons that affect the price?
  First understand the classification structure of pogopin female header connectors, and better understand pogopin female header connectors.
  1. Divide the pogopin busbars according to the spacing: denominator bus 1.0, 1.27, 2.0, 2.54.
  2. Pogopin headers are divided according to high convexity and whether there are convex points. The convex points are divided into two types: semi-convex and full-convex.
  3. According to the order of pogopin row mothers, it is divided into: single row, double row, 3 rows, 4 rows, etc. Currently, only 4 rows are higher.
  4. Divided according to the installation method: 180 degrees is in S, 90 degrees is in W, and 0 degrees is in T.
  5. According to whether it is necessary to install a column and whether it is necessary to install a positioning column, there are two types of columns, the inner positioning column and the ear positioning column.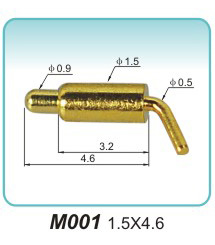 Factors affecting the price of pogopin row mothers:
  First, the use of materials, the materials used are generally based on whether they are imported or not. Usually imported materials are more expensive. Secondly, the price fluctuations of the material market. Usually, the fluctuation of the pogopin busbar in the market economy is not large.
  2. Specifications and models, pogopin headers with different specifications and different manufacturing difficulties, the price is naturally different, and the quotation is generally calculated according to the PT position and length.
  3. Plating. Plating is the key to determining the durability of metal plating. The price of the metal that is plated will have a greater impact. I believe everyone knows the price gap between gold and silver.
  Fourth, there is a brand. If you buy the original factory, it will naturally be more expensive. Looking for alternative manufacturers will naturally be cheaper. But in the final analysis, the quality determines the price. The quality of many alternative manufacturers is not inferior to the original factory, and the price is higher. Much cheaper. The high original price is due to the brand effect, the customer's quality recognition of the manufacturer, and the prestige advantage accumulated over the years.
  When purchasing pogopin female headers, the manufacturer will generally give a quotation, with detailed materials and other quotation factors on it, for everyone to judge. The price is based on the quality of the product. The better the price, the better. Relatively high, pay attention not to blindly greedy cheap prices, after all, you get what you pay for.
Read recommendations:
M2742 6.0x13(1A)anode electrode Production
M2716 5.5x7.25(1A)anode electrode company
M2648 7.5x5.8(4A)anode electrode company
Introduction of double-ended spring charging pin.Elastic contact company
The determinants of the price of custom pogo pins.Spring Loaded Contact Pin factory