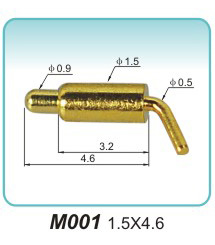 For pin header manufacturers, pin headers are generally used for the connection of PCB boards. Because different products require different specifications, there are also many types of pin headers. Follow the pin header manufacturers to learn about the types of lower pin headers.
  Pin header classification and types:
  1. The pin headers are divided according to the pitch: 0.8mm, 1.0mm, 1.27mm, 2.0mm, 2.54mm pitch.
  2. Divided according to the height of plastic and the quantity of plastic (for example, single plastic, double plastic, 3 plastic, etc.)
  3. Divided according to the number of rows of needles: single row, double row, 3 rows, 4 rows, etc.,
  4. Divided according to the installation method: 180 degrees is represented by S, 90 degrees is represented by R, and SMT is represented by M.
  Dongguan Weipin Electronic Technology Co., Ltd. products are widely used in: digital cameras, MP3, computer motherboards, various mobile storage disks, card readers, cordless phones, mobile phones, program-controlled switches, DVD, LCM/LED display modules, electronics In many fields such as toys and optoelectronics, board-to-board, wire-to-board and precision plug-ins are the main products.
Read recommendations:
M2742 6.0x13(1A)anode electrode Production
M2716 5.5x7.25(1A)anode electrode company
M2648 7.5x5.8(4A)anode electrode company
Why can board-to-board connectors be tested in a salt spray environment?old thimbles price
Does the round hole pin header have room for development?bare electrode price