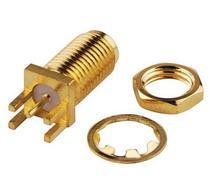 This product is designed for in-box applications and, in most cases, will be used between two printed circuit boards within a sealed enclosure. Probe connector features and benefits include an industry leading range of spring probes, compact modular housing, very low weight, blind mates, instant prototyping, unique flexibility and adaptability with proven performance giving users the opportunity to Design the configuration they want to go into their specific product. Additionally, expertise in spring probe technology has played a key role in making probe connectors available for rapid prototyping of cabled blind mating connectors, which should positively impact the traditional prototyping lead-time field.
  Cost-effectiveness is another obvious benefit related to probe configurability. Traditional products with predefined formats have not always proven beneficial for addressing unique combinations or mixed-signal capabilities within the confines of a single connector. This is a dilemma that often finds customers wrestling with an expensive and time-consuming alternative to custom-engineered solutions. The single probe block in the probe connector solution now allows customers to do what they need in a day and bypass the problematic issues of tooling and long lead times.
  Spring probes are designed to optimize performance in high reliability, multi-cycle applications. Spring probes are compliant which makes them ideal for blind pairing applications as they self-correct for x, y, z, rotation and angular misalignment of the target. Offering a compression height of less than 2mm and available on 0.4mm pitch, they are ideal for high density, board-to-board, battery contact and high frequency applications.
  Spring probe connectors are flexible on the surfaces of their mating halves, rather than extending into them like conventional pin and socket connectors. This gives the spring probe a unique blinding capability. A spring probe connector can be designed to engage at a 90° angle to its target, wiped in place to remove contamination. Instead, the connector can be disengaged in the same way, at any angle, making probe technology the best method for quick disconnect applications.
  Low profile, high compatibility
  Spring probe technology allows for a very high flexibility to length ratio. This allows Smith Connectors to design connectors as dense as 2mm while maintaining 0.5mm compliance. Spring probe connectors are low profile designs that accommodate challenging mating conditions and vibration environments.
  high frequency
  Short signal paths, combined with design and signal integrity expertise, ensure superior connector solutions for analog and digital applications.
  Low stable resistance
  Smith Connector's spring probes feature several innovations for controlling DC performance. Advanced biasing technology provides excellent contact resistance stability even under severe shock and vibration conditions. Our connectors can be designed to withstand currents up to 30 amps.
  High insertion life
  Based on design, spring contact probes are capable of significantly extending 20K to 500K cycles. Our probes are driven by a coil spring that maintains a constant contact force over millions of cycles. Our extensive plating and materials knowledge combined with engineering expertise provides contacts that exceed our customers' highest insertion life specifications.
Read recommendations:
M2742 6.0x13(1A)anode electrode Production
M2716 5.5x7.25(1A)anode electrode company
M2648 7.5x5.8(4A)anode electrode company
Magnetic connector application fields and products
Connector manufacturers introduce the operation of pin header connectors and the introduction of kno