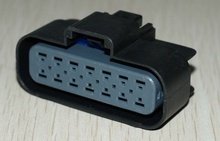 Manual and wave soldering will not apply excessive heat to the housing.
  Thimble pins only. The terminal needs to be inserted into shape.
  The basic specifications of the waterproof spring connector include AC/DC 12V 2A rated current, -40°C operating temperature - +85oC, and 100K cycle rated durability. Tyco Hanzer is also able to further customize spring loaded connector solutions to meet specific design requirements, environments and needs.
  Applications for waterproof connectors include data acquisition terminals, data communication devices, wireless devices, mobile GPS devices, and any other type of device docked within a charging station.
  As the world's largest manufacturer of spring connectors, Tyco Hanzer offers a wide range of industry-leading pogo pins and connectors. The space saving and low profile spring pin design allows for more freedom while also minimizing size and improving overall performance. Standard and custom parts.
  Brass usually offers lower cost, beryllium copper is a good choice for electrical properties, and nickel silver is sometimes chosen for very small or delicate barrels. Alternatively, when the barrel is unplated, phosphor bronze tends to have better characteristics when used in high frequency applications. Barrels generally cannot be heat treated as this would interfere with crimping during probe assembly. Selective hardening is an option but can significantly alter the cost of completing the probe.
  The basic choice for the plunger is the same barrel material as above, but only for the tool steel SK4 material which has the advantage of hardness over the others. The SK4 is hardened to preserve the sharp-edged style, it is always heat treated, lending structural strength and sharp-edged integrity. All materials are easily machined by CNC, or CAM lathes.
Read recommendations:
M2742 6.0x13(1A)anode electrode Production
M2716 5.5x7.25(1A)anode electrode company
M2648 7.5x5.8(4A)anode electrode company
Magnetic connector application fields and products
Connector manufacturers introduce the operation of pin header connectors and the introduction of kno