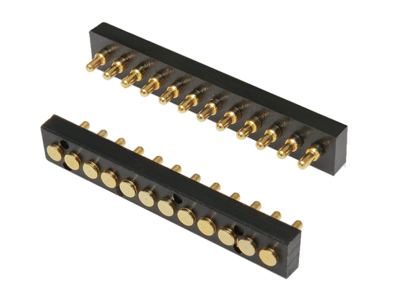 Spring connectors consist of a single spring loaded (pogo) contact assembled into a molded or machined plastic insulator. These are often used as button-type contacts to interconnect two parallel conductive surfaces inside an electronic device or instrument. Due to mechanical tolerances in the assembly, the stroke motion of the spring pin piston accommodates the uneven non-parallel state.
  46 discrete spring loaded contact styles are stored. Miniature spring contacts are available in loose and standard packs. They are typically used for low current, low force applications. Conversely, massive spring contacts are used for high current, vigorous applications.
  All spring-loaded contacts and connectors are manufactured to precise tolerances and designed to perform reliably over a long cycle life. The spring-loaded contacts are constructed of gold-plated, precision-machined brass alloy parts.
  For miniature spring contacts, use high reliability, gold plated beryllium copper springs. For mass spring contacts, use high reliability, gold plated stainless steel springs.
  Spring contact connectors for battery and board interconnects, you don't need shock or vibration to create stray signals when the power is on. Spring-loaded (Pogo Pin) connectors provide reliable electrical connections in the harshest environments. These interconnects are often used as the base unit (battery/charger) interface for portable devices such as mobile phones/radios, barcode readers, medical and test instruments. They can also be used as rugged surface-to-surface connectors between circuit boards. All pogo pin connectors feature the following: Pogo Pin Maximum Continuity: Precision machined gold-plated parts and low resistance springs maintain a consistent electrical path. Maximum Stability: Tested at least 50G shock and 10G vibration, no spikes >1μs and >1.15V, 0.5A applied. Maximum endurance: 1,000,000 cycles, still static. Maximum Range: Six single and double row strip assemblies for .100" mounting grids - Low and high profile surface mount styles available on carrier tape, through-hole type for manual placement plus 88 discrete spring contacts Points are used for customer-specific components.
Read recommendations:
M2650 3.0x12.5(1A)Negative contact pin Production
The influence of spring pogo pin thimble connector!spring loaded pogo pins Production
What is the problem of unstable current when using pogo pins?