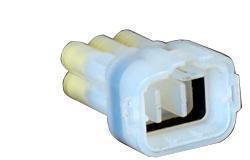 1. Pogopin bevel structure In order to ensure that the needle shaft is in 100% contact with the needle tube during operation, we cut one end of the needle shaft in contact with the spring into a bevel. This design concept can ensure stable low impedance. Product advantages: The resistance value of the resistance is small and stable, which can ensure that the needle shaft is in close contact with the tube wall and reduce the probability of instantaneous power failure.
  2. Pogopin slope and ball structure In order to make the contact more stable, steel balls or insulating beads are added to the needle tube, thereby reducing the current passing through the spring, and the steel balls in the pogo pin contact more stably, so the electrical performance will be better. Product advantages: large passing current, small contact resistance, stable performance
  3. One-piece through-hole structure The through-hole pogo pin is the best choice for small size and high current. The current flows straight from the needle shaft. When the inner wall of the needle tube is polluted by insulating media such as oil, it can be energized normally without being affected. It has great advantages in specific industry fields.
  4. Pogopin anti-drilling structure This design is the best choice for small-sized connectors, which can meet the customer's elastic requirements in small size, because the spring length of this design can exceed the length of the needle tube,.
Read recommendations:
M2742 6.0x13(1A)anode electrode Production
M2716 5.5x7.25(1A)anode electrode company
M2648 7.5x5.8(4A)anode electrode company
Magnetic connector application fields and products
Connector manufacturers introduce the operation of pin header connectors and the introduction of kno