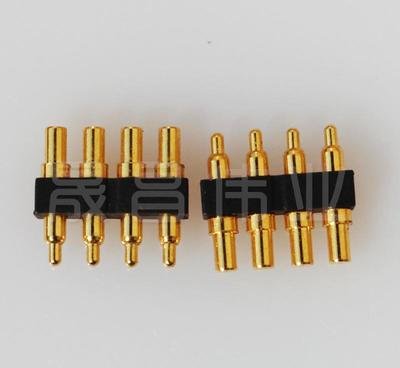 In the era of no pogopin connection, shrapnel is the only choice for conducting connection. So far, shrapnel occupies a large part of the application in the connector industry, such as in the antenna industry. Pogopin and shrapnel have their own advantages and disadvantages. In some environments, pogopin has certain advantages over traditional shrapnel, such as in smart wearable devices: smart watches, bracelets, electronic cigarettes, etc. (TWS headset industry has shrapnel and pogopin)
  1. Compared with antenna shrapnel, POGO PIN has smaller distributed capacitance and distributed inductance at the same working height due to the shorter path of current passing through it, especially in high frequency band, which is more conducive to impedance matching.
  2. Based on the same working height, POGO PIN is much higher than the shrapnel in the self-resonant frequency band, and the loss is smaller, which is conducive to the efficient transmission of high-frequency signals.
  3. POGO PIN can realize the connection scheme of high current, and the current carrying capacity can reach more than 10A.
Read recommendations:
M2742 6.0x13(1A)anode electrode Production
M2716 5.5x7.25(1A)anode electrode company
M2648 7.5x5.8(4A)anode electrode company
Magnetic connector application fields and products
Connector manufacturers introduce the operation of pin header connectors and the introduction of kno