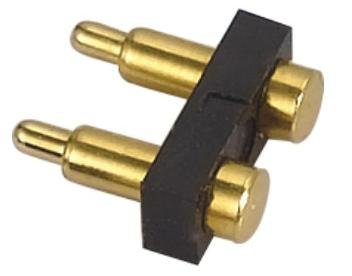 With the development of the market and the upgrading of product technology, more and more consumers are not only limited to the multi-function of products, but also pursue fashionable appearance and small and thin appearance. But to manufacture and design such a product is a huge challenge for all electronic product engineers. Because of the structural design space and the standard specification of connectors, it is difficult for engineers to have a good choice to complete it. Based on this, our R&D engineers use the unique advantages of the probe to generate a concept and think of ways to help these product engineers solve the problem of product internal communication. In addition, pogo pins have obvious advantages in terms of structural space usage, assembly cost, lifespan, sample cycle and cost, etc.
  structure
  The connector consists of 3 parts: needle shaft, spring, needle tube (plastic cap can be optional to protect the needle shaft based on customer's installation requirements).
  The above three structures can be combined into a complete pogo pin product, and the plastic bottom can be combined into a variety of styles of multi-pin pogo pin connector products. The main parameters and characteristics of the pogopin connector are as follows:
  Contact resistance: dynamic contact resistance less than 30mΩ
  Insulation resistance: greater than 500MΩ
  Elasticity: customized according to customer requirements, ranging from 50 to 500 grams
  Dimensional accuracy: the length direction can reach 0.05mm. The diameter direction can reach 0.01mm
  Service life: more than 10,000 times
  Soldering method: suitable for surface mount soldering, wave soldering, hand soldering.
Read recommendations:
M2742 6.0x13(1A)anode electrode Production
M2716 5.5x7.25(1A)anode electrode company
M2648 7.5x5.8(4A)anode electrode company
Magnetic connector application fields and products
Connector manufacturers introduce the operation of pin header connectors and the introduction of kno